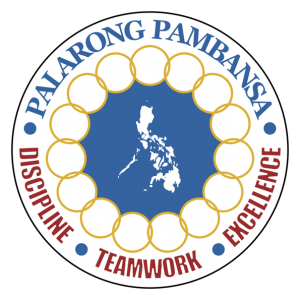 The Palarong Pambansa (Filipino for "National Games") is an annual multi-sport event involving student-athletes from 17 regions of the Philippines. The event, started in 1948, is organized and governed by the Department of Education or DepEd.
Student-athletes from public and private schools at elementary and secondary levels can compete provided they qualified by winning at their regional meet. For young Filipino student-athletes, Palarong Pambansa is the culmination of school sports competition, which start with local school intramurals, followed by the congressional district, provincial, and regional athletic meets.
The objectives of the Palaro are:
To promote Physical Education and sports as an integral part of the Basic Education curriculum for holistic development of the youth;
Inculcate the spirit of discipline, teamwork, excellence, fair play, solidarity, sportsmanship, and other values inherent in sports;
Promote and achieve peace by means of sports;
Widen the base for talent identification, selection, recruitment, training and exposure of elementary pupils and secondary students to serve as a feeder to the National Sports Association (NSA) for international competitions; and
Provide a database for a valid and universal basis to further improve the school sports development programs.